When it comes to B2B marketing strategies, it's essential to recognize that 75% of B2B buyers use social media when making a purchase. [I] Now more than ever, B2B healthcare brands need to leverage social media to target the specific decision-makers they are trying to convert.
But with so many social channels to choose from, it can be difficult to determine the best social media platform to invest in and prioritize.
To simplify the process, we have developed an outline that will help you select the best social media platform for your healthcare brand.  The following guiding questions should influence your overall social media marketing strategy to help you connect with and convert your ideal leads.
What Is Your Goal?
– Which is the best social media platform to achieve my business goals?
When trying to decide which social media platform to pursue, the very first thing you should determine is your goal. Without a clear and deliberate purpose in place, it will be challenging to make any informed and strategic decisions down the line.
While your overall aim will most likely have something to do with converting more leads, your goal should be more specific than that—in a sense, it should be how you plan on doing that.
For example, wanting to convert leads is great, but what is stopping you from doing that currently? Do not enough people understand the need behind your product or service? If so, then maybe your goal would be to educate the market. Or perhaps it's clear why your product or service is necessary, but you keep losing leads to your competitor's higher-ranking pages—in which case your goal could potentially be to improve local SEO.
Whatever your social media goal, it must be specific to your healthcare brand's needs and obstacles. Don't just implement a strategy because it's trendy or because you see your competitors doing it. Instead, figure out what will help you reach and convert leads most strategically based on your unique positioning.
Here are some examples of a few specific goals:
Increasing brand awareness

Improving local SEO

Educating the market on your product/service

Increasing website traffic

Capturing lead information and data

Establishing your authority and credibility in your niche

Overcoming your audience's hesitations/answering their questions

Fostering online engagement
What Content Could Help You Achieve That Goal?
– Which is the best social media platform to promote my content?
Once you have established your specific goal for your social media strategy, the next question is what kind of content will allow you to accomplish that goal.
Too often, in the marketing world, brands waste time and resources creating content that doesn't align with their goals. Aimlessly developing social media content that isn't anchored to any strategic plan isn't very effective.
For example, if your product or service is something relatively new that your prospective buyers might not know they need. Your goal might be to educate them on how it works and why it benefits them. So, your next step would be to determine what type of content would be most educational—perhaps infographics that demonstrate the impact of your service? Or maybe even a video highlighting how your product works?
While you will probably end up developing a few different kinds of content, you need to ensure that each is strategically aligned with a specific goal. For example, if you think your audience would benefit most from detailed, thought leadership opinion pieces, you wouldn't want to be limited by Twitter's 280-character count maximum.
Here is a list of different content ideas:
Testimonials

Videos

Infographics

Opinion pieces

Images

How-to guides

User-generated content

Podcasts
Where Do Your Leads Spend Their Time?
– Which is the best social media platform to connect with my clients?
If you follow digital marketing best practices, this next step should be easy.
One of the most critical things you need to consider when selecting a social media platform for your healthcare brand is where your target audience spends their time. If you invest all your energy in creating videos for Instagram, but your leads predominately use Facebook, you'll have a hard time connecting with them.
In the B2B space, the leads you target should have buying power or influence at their companies. Unlike in the B2C space, B2B marketers must carefully nurture relationships with key decision-makers. [ii]
Determining who these decision-makers are and where they spend their time online should be easy if you already have buyer personas for your brand in place. If you haven't developed buyer personas yet, you can download this free template. Byer personas will help you get started identifying who your ideal clients are and their relevant characteristics.
Once you understand who these decision-makers are, you will be better able to determine which social platforms they are on.
Different social media networks attract different demographics. You should write content appropriate for the network's audience. Start by researching which platforms attract your target audience. Then review your social media goals and your brand's objective
Your focus platform(s) are where your brand's objectives, target audience, and social media goals meet.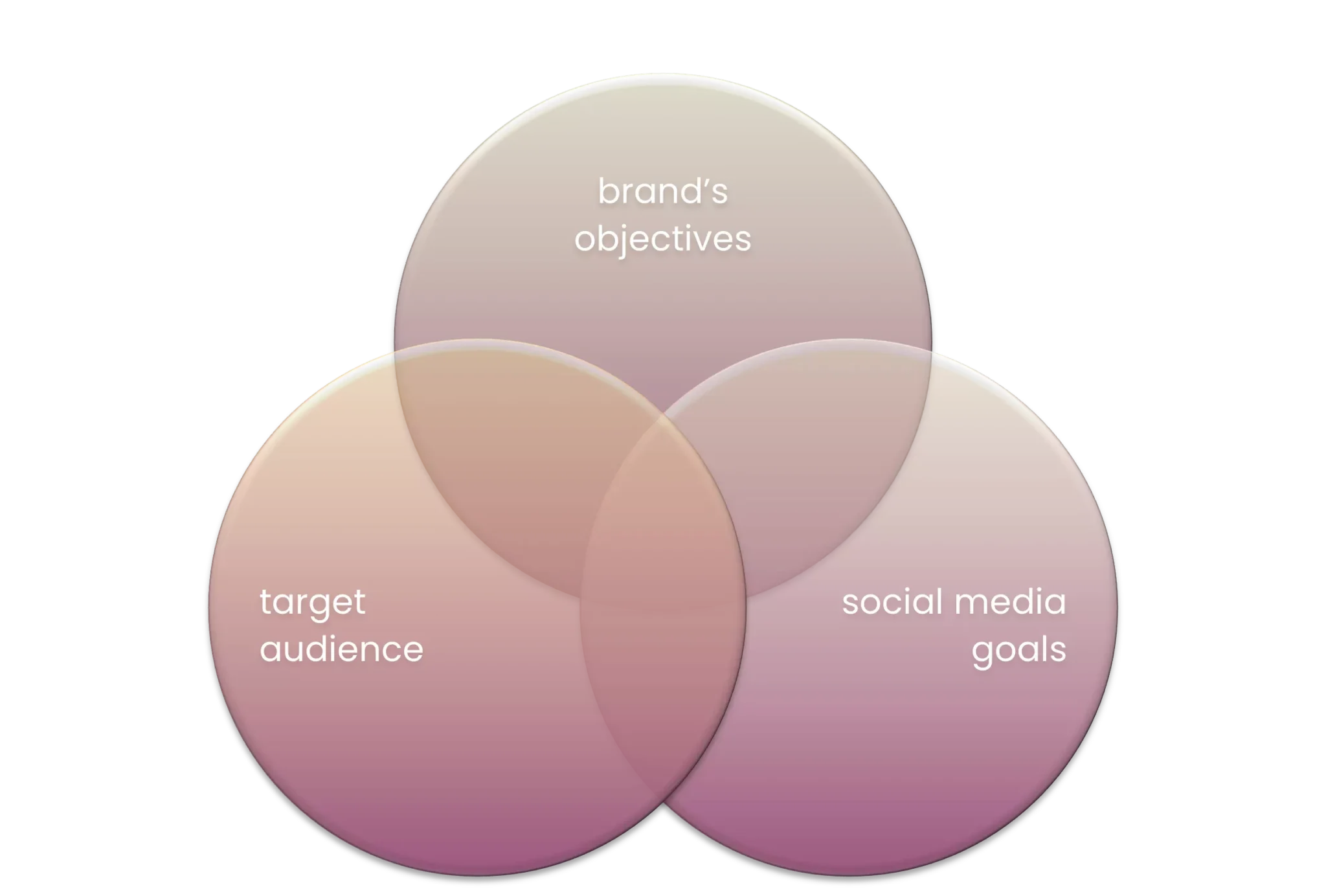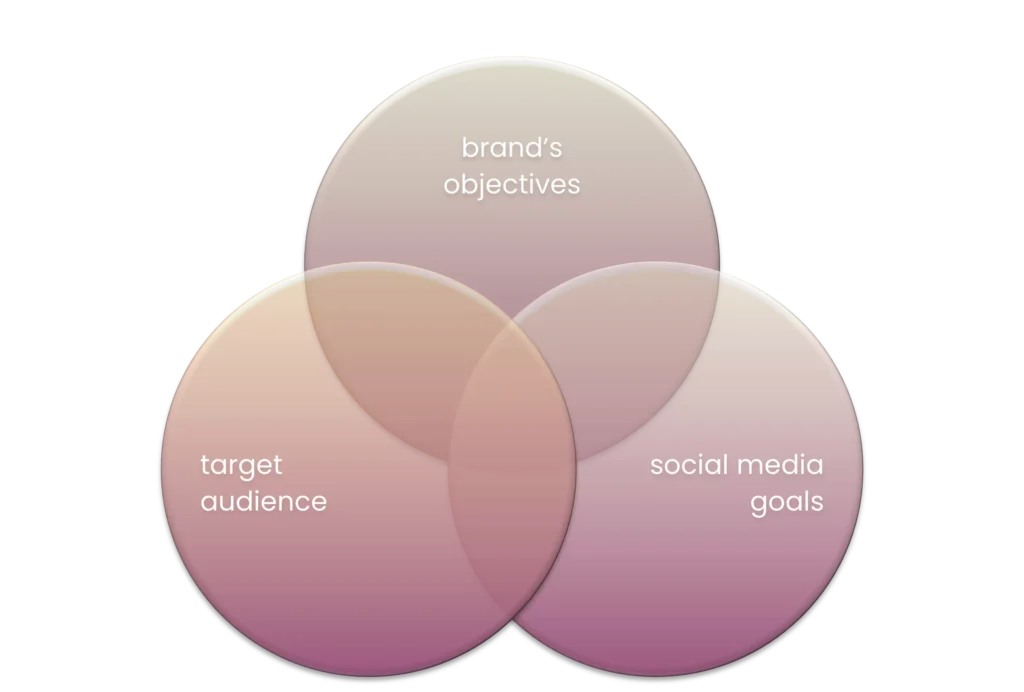 Avoiding HIPAA Violations
Determining your goals, deciding what kind of content to create, and figuring out where your leads spend their time online should help guide you toward the right social media platform for your brand. However, there is one more significant consideration we wanted to remind you of when engaging with social media in the healthcare space: HIPAA compliance.
Although more common in the B2C space, posting patient images without their consent, sharing identifiable information, and including images with protected health information are examples of common social media HIPAA violations. [iii] Whatever social media channels you choose, make sure that you follow the latest regulations and rules and never jeopardize your patients' privacy.
Getting the Right Partner
– Which is the best social media platform partner for me?
We hope that these guiding questions simplify and streamline your social media selection process.
If you need help developing and executing effective social media strategies for your healthcare brand, we would love to partner with you. Our team of digital marketing experts can help you create content aligned with your brand's unique goals and optimized to reach your ideal leads.